Plant Protection and Organic Agriculture Programs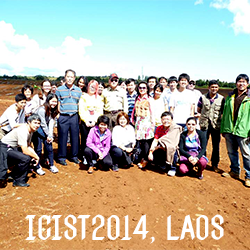 AATSEA has set up the training program on plant protection in southeast asia to let the peoples know advanced technology for new strategy of plant protection to avoid or decrease the toxic chemical pesticides (chemical fungicide, chemical insecticide and chemical herbicide) that leading to destroy our agro-ecosystem in surrounding environment and the toxic synthetic chemicals residue or deposit in vegetables, fruits, animal products and toward food for consumers then it cause hazardous to human to be short life due to the diseases involved eg heart disease and cancer etc. AATSEA will then aim to contribute the new knowledge for plant protection to the society to promote food safety.
AATSEA have expert team in plant protection (plant pathology, entomology and weed science) and ready to scarify new knowledge to young scientists, technician, agriculturists , farmers as well as student who are studying in the field of plant projection major in college or university throughout Southeast Asia.
AATSEA will provide the new knowledge and technology and help to set up plant protection curriculum in any university upon request. AATSEA will use the own budget to run for contribution knowledge in this field of specialization with our experts and also volunteer to scarify for this opinion. We have experts on many courses as basic plant pathology, mycology, plant resistant improvement, biological control of plant disease, insect pest and weeds, safety food for phytosanitation etc.
AATSEA procedure to help in two ways as follows :
1. AATSEA can let our expert going to give lecture and practical teaching in plant protection at the institutes, college or university who admire to build up the new concept and knowledge of plant protection by using our own budgetary for travel and accommodation for our experts.
2. AATSEA can accept anyone who interesting go for short course training program (3-6 months) in plant protection at Biocontrol Research Center, Faculty of Agricultural Technology, King Mongkut's Institute of Technology Ladkrabang (KMITL), Ladkrabang, Bangkok 10520, Thailand. This way will depend on collaboration to each institute.
How to apply
Please directly contact to AATSEA secretary office in Bangkok at above address.